Welcome to my Miami Page. I have lived in Miami most of my life. I truly love living here. I have put up some pictures of the Miami that I love. Enjoy the beauty that is Miami.


The picture on top is of the Miami Metromover going over the Miami River. The Metromover goes all over downtown Miami.

Miami has one of the most breathtaking skyline known to man. Miami is nicknamed The Magic City
The reflection of the lights look like colors dancing on the ocean. Romance comes to mind.
---
What is Miami best known for? "The Beach!" Miami Beach is one of the most famous beaches in the world. One can go swimming sailing, rollerblade, fishing, or just lie on the beach and just look at the beautiful people. At night, South Beach is the night club capital of the world. One can dance to whatever type of music they please.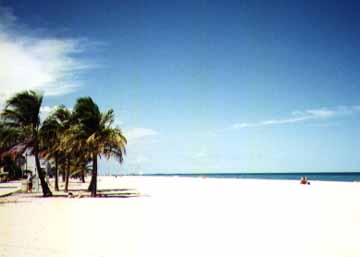 ---

There are a lot of great places to go scuba diving around Miami


To the West of Miami, we have the breath taking Everglades National Park

---
I know what you are saying to yourself "Gee, I wish I had a map of South Florida. I live in the section called Coral Gables. "Stop by and say hello.

---
YAHOO MIAMI LOCAL INFO

MIAMI.COM (All the info you will need about Miami)

SOUTH FLORIDA.COM(Info On South Florida)

GO MIAMIInfo On what is Going on in Miami)

CLUBMIAMI.COM(Info on Clubs and Nightlife)